U.S. Government Wastes $440 Million a Year on Useless Printing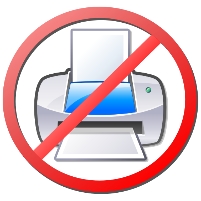 Nearly half of the billion dollars the U.S. government spends each year on office printing is unnecessary, according to a new survey. Federal employees spend $1.3 billion annually printing out documents, much of which they don't really need. The potential for saving taxpayer dollars is substantial—$440 million a year—which represents four times the amount that President Barack Obama has ordered federal agencies to trim from their budgets. Another way of looking at the potential savings is this: $440 million is almost as much as the federal government spends each year to print money ($492.8 million).
The survey, conducted by Lexmark and O'Keeffe & Company, found that each federal employee on average prints 30 pages a day, totaling 7,200 pages per employee per year. Federal employees throw away just over a third (35%) of the pages they print daily.
Why all the useless printing? Well, 89% of federal employees say their agencies don't have formal printing policies in place, which has inadvertently encouraged a culture of waste.
Opportunities do exist for reducing paper costs. Most federal workers (69%) believe their offices could go paperless by switching from paper trails to digital ones. Nearly the same number (64%) admits they could also just print less.
-Noel Brinkerhoff